What You Need to Know about our Rental Terms
Please contact us if anything is unclear about our Rental Terms and conditions or if you have any additional questions.
---
Age requirements
Drivers must be between 21 and 80 years of age.
Drivers between 21 and 24 are subject to a higher CDW (deductible/excess US$2,000).
Drivers between 75 and 80 years of age are subject to a higher deductible (US$2250) and must provide medical clearance in advance of the rental. All information for this is available upon request.
---
Driving Permits and Additional Drivers
Each driver must have held a valid driving license for at least three years. Drivers must produce this license at delivery.
A local driving permit is necessary by law and is issued at delivery. These permits are US$5.00 each and are valid for two months.
We allow a maximum of 2 drivers per vehicle at no charge except for a driving permit.
Additional drivers (3 & 4) may be added at the cost of US$3.00+tax per day per driver, capping off at four drivers in total per vehicle.
---
Gasoline Policy
All vehicles are delivered with gas – minimum ¼ tank.
We require that they are returned with the same amount as at the time of delivery.
Failure to do this will result in a fuel replacement charge.
---
Free deliveries and collections island-wide, except the airport and seaport, during regular working hours.

---
AIRPORT/SEAPORT Deliveries and Collections.
US$5.00 plus tax is applied to all Airport/Seaport deliveries and returns during regular working hours.
Overtime fees apply to all deliveries between 6 pm & 10 pm.
---
Regular working hours and overtime information
Deliveries begin at 8:30 am. Cut off time for regular working hours is 6 pm.
Overtime Hours – 6 pm to 10 pm
An overtime fee of US$25.00 plus tax is applied to ALL deliveries during the overtime period.
---

---
Insurance Information
With our rate of hire, the vehicle is comprehensively insured, including damage to third party vehicles, property, and injury with a deposit/deductible of US$1500.00.
Additional CDW packages are available for purchase to reduce this deductible in case of loss, accident or damage to the vehicles. The excess waiver is voided if the client has an accident and must be purchased again for the rest of the hire.
A pre-authorisation (hold only) will be placed on your credit card at delivery. Please note that the release time varies depending on your issuing financial institution. If you do not have a credit card, a Cash deposit equal to your contracted Insurance deductible is accepted.
Damages include all dents, scrapes or scratches to the body of the vehicle; broken or cracked exterior mirrors, windows, and lights.
EXCEPTIONS – The deductible does not cover torn or soiled upholstery, damage to the stereo and antenna, wheel tools and accessories, depletion of battery life due to negligence, or damage to rims and tires.
---
The CDW plan is void in the event of the following:
Use of the vehicle for any activities listed as restricted.
The damage or loss was caused intentionally.
An unauthorized driver is driving the vehicle.
The loss or damage occurred because the driver whether authorized or not was impaired by the use of alcohol or drugs.
---
Additional CDW Packages offered
1 – Standard Pack – Additional US$10.00 + tax per day onto basic quote – Your responsibility for damages is reduced to US$250.00 except for the underlined exceptions.
2 – Protection Plus Pack – Additional US$20.00 + tax per day onto basic quote – Your responsibility for damages is reduced to zero except for the underlined exceptions. Available on offers five days and over only
---
Vehicle Restrictions
No eating of foodstuff or drinking of beverages is permitted in the rental vehicle.
Smoking is also strongly prohibited in all vehicles.
No animals or pets are allowed under any circumstances.
Should the upholstery be soiled or burnt by such activities, the Hirer will be liable for all valet and repair costs.
The vehicle will not be used for the carriage of passengers or property for hire or reward, for any illegal purpose; to propel or tow any other vehicle or trailer; for race pace-making, reliability trials or driving tuition; in violation of the provision of any Act, Order or Regulation affecting the use, lending or condition of the vehicle.
If the vehicle is used in any of the aforementioned activities, the Hirer is responsible for any damage or loss to the vehicle. Or any part or attachment thereof, including our loss of use of the vehicle regardless of fault. If we elect not to repair the vehicle, the Hirer shall pay the full value of the vehicle before it was damaged, less any monies received from salvage.
The Hirer will immediately inform the Rental Office of any loss, or damage to or fault in the vehicle and will not use the vehicle while it is in a non-road worthy condition or liable to cause harm to any person or property.
The Rental Office will not accept responsibility for loss or damage to any property left in or on the vehicle, our premises or service vehicle.
---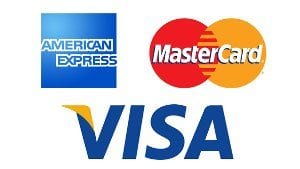 We Accept Visa, AMEX, and MasterCard
---
Methods and Restrictions
We accept – Visa, AMEX or MasterCard.
Full payment for your rental is due on the day of delivery. We accept debit and credit cards for payment (Visa, AMEX or MasterCard), Barbados and US Dollars.
Credit cards must be provided at delivery for the insurance CDW (deductible/excess) on your contract. These cards are verified and imprinted at delivery and held on file until the end of the rental. Once no damage occurs, these imprints are destroyed.
If a debit, prepaid, or flat card (non-embossed) is presented for the security imprint at delivery, the card will be run for the full security deposit plus a US$25.00 non-refundable processing fee. A refund will be issued at the end of the rental once no damage has occurred.
When making payment, the cardholder must be present.
---
Cancellation & NO SHOW
A minimum of 48 hours notice is required for all cancellations of bookings. In the event of this NOT being done or of a NO SHOW, your credit card will be run in the amount of US$100.00.
---
No refunds are issued if vehicles are adjusted or canceled once your contract has commenced.
Bajan Car Rentals Ltd (Car Rentals Barbados) does not accept virtual credit cards or any card on which the relevant characters are not raised ('embossed') and fully visible.
---